Self Catering at Little Arthur Farm
'Ethical holidays that won't cost the Earth'
23 miles off Land's End lie the Isles of Scilly - the legendary land of Lyonesse - which, even to
day, exist as a haven of peace and tranquility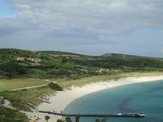 with unspoilt beaches, heather-strewn moors, amazingly clear blue waters and wild headlands - and this is the way we want to keep it. That is why, at Little Arthur, we offer you the opportunity to enjoy a holiday in this unique environment without destroying it.
Little Arthur Farm lies in a shallow, south-facing, valley, bordered by sandy beaches to the south and heather strewn moors to the north. The farm is a mixed organic holding combining "self-sufficiency" farming with a small amount of cottage industry - shoe-making, flower farming and a garden cafe and bistro using farm produce. The aim of the farm is sustainability, a working demonstration of the potential for an ecologically sound life style within the island environment. We grow our own fruit and veg, milk our own goats, have chickens and ducks for eggs and keep pigs, sheep and a couple of cows.
For those interested in sustainable living, the farm offers traditional farmhouse accommodation which has stunning views across the Eastern Isles.
The essence of the farmhouse is simplicity - white-washed walls, red, quarry-tiled floor, woodstove and oak beams - all very much part of the island tradition. The farmhouse is just a few minutes stroll from Higher Town beach and the quay from which boats depart daily for trips to other islands.
If you want a rest from cooking, the farmhouse is also next door to Little Arthur Cafe & Bistro which serves delicious lunches and snacks using farm produce and is also open on Monday evenings for pizzas and Friodays for its special bistro evenings. Just down the lane is Adam's Fish & Chips, the BBC Food and Farming Award winning restaurant which serves freshly caught fish and lobster to eat in or take away - why not have a unique alfresco experience and take your fish and chips to English Island, just along the beach from Little Arthur?
The Farmhouse is fully equipped for self-catering. The kitchen, which is new, has a large electric cooker with gas hob, microwave, dishwasher, washing machine and dryer and fridge-freezer. The living room has a dining area and cosy seating area with a woodstove. Upstairs the bedrooms have been kept as originally built with two small bedrooms - an ideal choice for a couple (4ft bed), two singles or a couple + one(2ft 6ins bed) .We emphasise that the bedrooms are small so ideal for those who intend to be out and about, exploring the islands. There is a small family bathroom with bath/shower and toilet.




Lists for groceries etc can be sent to St Martin's Stores. These can be collected ready for your arrival.
Bookings are taken from Saturday 2pm to Saturday 10am. The Farmhouse is suitable for a couple or two singles (we cannot accept children under 8)
A well-behaved dog can be accepted by arrangement but needs to be kept downstairs.
April, September and October £350
(50% non-refundable deposit payable on booking)
For availablility: [email protected] or ring 07864038017
(For those seeking family accommodation, there is also an eco cabin - please tel Adam and Fiona on 01720 423637 for details)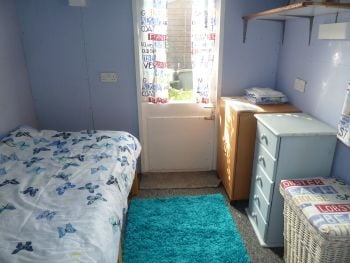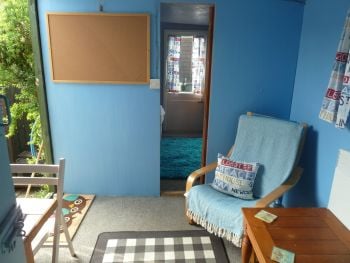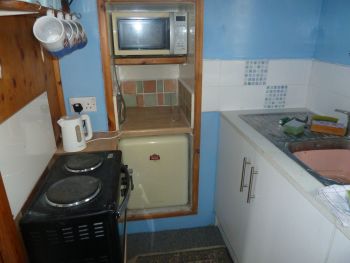 Backpackers Cabin
We also have a small backpackers cabin (images above) for the single traveller. This is intended as an inexpensive base from which to explore the islands. It provides the basics - a single bedroom, seating area, kitchenette with microwave, small oven, fridge, sink and storage; toilet and shower. Note this does not have sea views but is only five minutes from the beach!
Details can be found on airb&b. For availability contact [email protected] Prices are £175 a week (Saturday to Saturday)
Travel Information
Below: Pictures of the eco cabin