Self Catering Eco Holidays In The Isles of Scilly
'Ethical holidays that won't cost the Earth'
23 miles off Land's End lie the Isles of Scilly - the legendary land of Lyonesse - which, even today, exist as a haven of peace and tranquility with unspoilt beaches, heather-strewn moors, amazingly clear blue waters and wild headlands - and this is the way we want to keep it. That is why, at Little Arthur, we offer you the opportunity to enjoy a holiday in this unique environment without destroying it.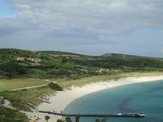 Our small eco cabin is situated next to the farmhouse with stunning views across Higher Town Bay and the Eastern Isles and is only 2 minutes walk from the beach. Built in granite, the cabin blends in with its island surroundings.
The cabin is 4 berth, having two small bedrooms (one double -4ft- and one with bunk beds.) There is an additional 'summer house' with bunk beds suitable for older children. The cabin is fully equipped for self catering but you will need to bring duvet covers, towels etc. The kitchen area has a full size electric cooker and fridge and there is a toilet and shower. A washing machine is available in the summer house. A small sun lounge allows full enjoyment of the outstanding views even out of season. The cabin is only a short walk from the Island Stores & Post Office and is 5 minutes from the quay from which, in summer, boat trips depart daily for the other islands. The cabin is adjacent to our own wholefood cafe which can provide morning coffees, home-baked rolls, salad lunches, pasties made with our own beef, cream teas and a range of cakes. (April 1st -September 30th) On Friday evenings, our bistro is open serving a wide range of local seafood, our own beef, and much more besides and on Monday evenings we offer a whole range of pizzas, made on the premises, to eat in or take away. Two minutes away is the BBC Food and Farming Award winning Adam's Fish and Chips which serves freshly caught fish and our own home-grown potato chips (useful on Saturdays when you've only just arrived but remember to book your meal in advance!). This all enables you to have the benefits of self-catering without being tied to the stove, giving you total flexibility.
Farm produce is available, according to season, to order on arrival for the duration of your holiday on
Shopping lists for groceries etc can be sent to St Martin's Stores. These can be collected for your arrival.
(50% deposit payable on booking)
For availability and prices, please tel Adam and Fiona on 01720 423637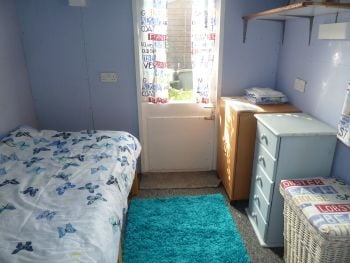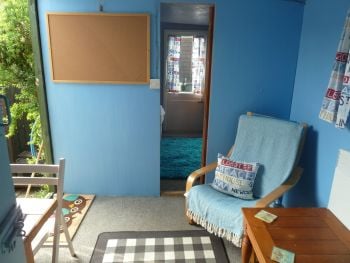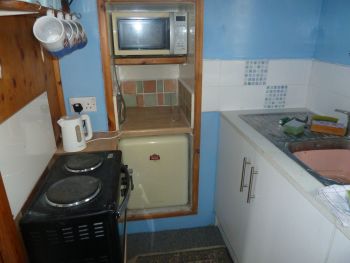 Backpackers Cabin
We also have a small backpackers cabin (images above) for the single traveller. This is intended as an inexpensive base from which to explore the islands. It provides the basics - a single bedroom, seating area, kitchenette with microwave, small oven, fridge, sink and storage; toilet and shower. Note this does not have sea views but is only five minutes from the beach!
Details can be found on airb&b. For availability contact [email protected] Prices are £175 a week (Saturday to Saturday)
Travel Information
Below: Pictures of the eco cabin